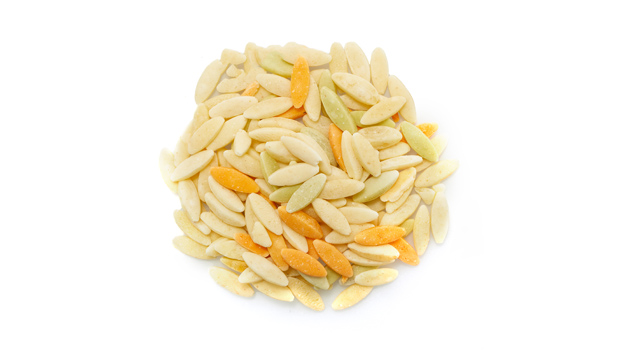 tri-color orzo
Discover how enjoyable and versatile Tri-Color Orzo can be! Made with enriched durum semolina flour, Tri-Color Orzo is slightly nutty in flavor and creamy in texture since its long-grain shape releases more starch when cooking. Paired with any sauce or vinaigrette, Tri-Color Orzo is a light and colorful addition to your pasta line-up, as well as a little trip to Italy every time.
Cooking instructions:
Begin a pasta dish with bringing a deep pot of salted water to a roaring boil. Add Tri-Color Orzo and cook to a desired texture. When it comes to pasta, we believe it's all about preference. If you enjoy what the Italian call al dente" then remove your pasta from the heat when it still has a little bite left to it. Like softer pasta? Let your Orzo cook until tender. Whichever way you enjoy Tri-Color Orzo, be sure to stir often to prevent from clumping together or at the bottom of the pot.
INGREDIENTS
Nutrition Facts

Customers also viewed