Custom
Solutions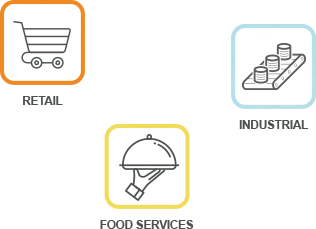 Benefit from our expertise
At every level of business, whether industrial, retail, or food service, we can meet your product and packaging needs easily and effectively. We are ready to serve all levels of business, both independent and large scale.

Industrial
Our experienced and reliable team understands manufacturing needs :
- Competitive pricing according to bulk volumes (pallet or container)
- Certified SQF Level 2 as well as ECOCERT, Kosher, Gluten Free and HACCP
- Strong internal QA team available for your R&D / customer support and food safety
- Allergen controlled environment

Bulk Solutions
Use our self-service option to fill your bulk bins. With hundreds of options, you can create a station that is eye-catching and convenient to your business.
- Fill bulk bins
- Incredible variety
- You choose the products you want
- You control how products are sold (by weight or fixed price)

Co-manufacturing
With over 1500 products to choose from, our value-added options open endless possibilities.
- Custom mixes will help you distinguish yourself from other brands
- Choose the product of your choice for panning, enrobing, milling, roasting, etc.
- Flexibility of packaging
- Build a product line that includes variety, value, and volume
Milling

Enrobing

Roasting

Custom mixes

Panning
Established Brands
Choose from our already-established and recognized brands. From Yupik, Elan, and Natya, our brands will drive your sales.
- Established names that have marketing and branding already figured out
- Shelf-ready or with a ready display
- Generate traffic and create a loyal consumer base
- Increase profit immediately

Private Labeling
Enjoy the perks of your private label on our premium products. Our team works in conjunction with your needs and ideas to create an outstanding product that showcases quality and creativity.
- Choose from our high-quality products to generate customer loyalty
- Custom packaging, weight, size, and design
- Deliver the goods your customers want under your own brand
- Create a finished product that will drive sales