About Us
A history of passion
A family-run business established in 1986, Tootsi Impex is continuously growing and striving to remain a leader in the industry. For 30 years, we have devoted ourselves to quality products in diverse categories. We have taken pride in bringing innovative products into the market as we have done over the years. From our closely built relationship with suppliers, we have also established ourselves as a name that cares and carries quality products. We are determined to be the name you trust in order for your business to achieve success.
Tootsi Impex offers an extensive line of services based on vertical integration, including co-manufacturing, sourcing, diversity, and a professional quality control team to care diligently for products.
OUR VISION:
Our passion is food and we are committed to the best of it. Our dedication is our customers continuous satisfaction.
OUR MISSION:
Premier food company offering superior quality to consumers in Canada and around the world.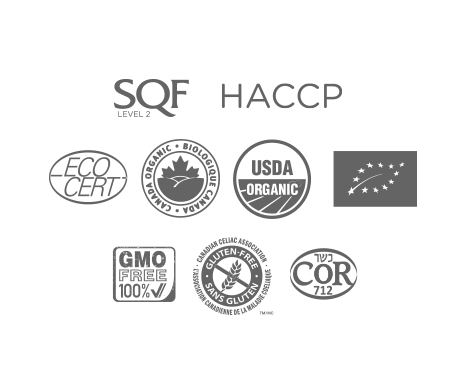 Quality is everything to us
We have made it our business to value your business. We are determined to deliver exceptional quality products that you can rely on. We let top tier products prove their excellence with every taste.
It begins with trusted suppliers who take pride in the quality of their product. It evolves to a quality control team whose job it is to ensure the integrity of the product remains from point A to point B.Our quality control team is continually working to improve and exceed our standards from the moment products reach us. Our facility is HACCP and SQF certified. Every part of our facility, including equipment and production lines is kept to the highest standards of cleanliness on a routine basis. Our facility holds Organic, Kosher, and Gluten-free certifications. We also offer Non-GMO and allergen-friendly products.
Proud member of the following organizations:
CHFA, INC, CPMA, CIFST, UGI, Group Export

Premium products from around the world
From California almonds to Japanese matcha green tea, we source our products from the very best and reliable sources around the world. Escape to the amazonian rainforest with our acai berry powder, or journey locally to enjoy our canadian cranberries, but either way, you will taste the difference quality makes.
Tootsi is proud to bring you a wide variety of products that speak to the regions they come from. Our team is passionate in their search for products that are both current and unique, while also collecting pantry staples that you can rely on.